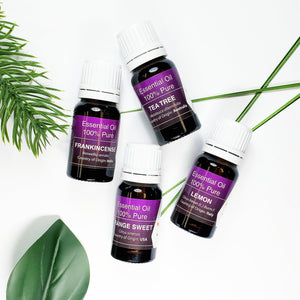 New Directions Aromatics
Essential Oils - 100% Pure Therapeutic
Regular price
$8.00
$0.00
Unit price
per
A large selection of 100% Pure, Certified Organic and Certified Fair Trade Essential Oils and Aromatherapy Products at amazing prices!
Essential Oils (Aromatherapy Oils) are the highly concentrated, volatile, aromatic essences of plants. All the countries of the world provide essential oils, making aromatherapy a truly global therapy. New Directions Essential Oils are pure, undiluted essences extracted directly from a variety of flowers, fruits, leaves, barks, roots, herbs, and spices.
What can i use Essential Oils for?
The most common way to use essential oils is to inhale them, either directly out of the bottle or by using a diffuser or humidifier. You can also dilute essential oils with a carrier oil and apply it directly your skin. Or you can get creative and add the mixture to a body wash, shampoo, or bath.
⭐️Custom Sizes & Orders⭐️
Some of our oils are also available in 5ml, 30ml & 100ml
To order a different size, please email us at himalayanenergywellness@gmail.com


ABOUT NEW DIRECTIONS AROMATICS 

Established in 1997, New Directions Aromatics Inc. is a leading supplier of 100% pure Essential Oils, Natural Raw Materials and Specialty Packaging. Beginning with only a handful of distilleries, they presently source directly from ethical producers in all six continents.
Their volume purchases through their Central Purchasing System enables them to offer the largest selection of pure essential oils at affordable prices. 
They spare no effort to maintain the high quality and purity of their essential oils and their buyers constantly travel around the world to ensure that their suppliers meet stringent quality standards. This enables New Directions Aromatics to unconditionally guarantee all of their essential oils. As far as possible, they source products from organic growers and distillers. Certificate of Analysis, Specifications and SDS are available on request.
---