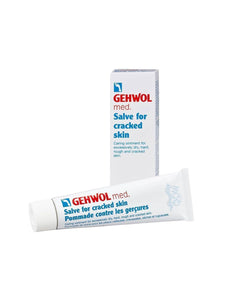 gehwol
Gehwol Med: Salve for Cracked Skin
Regular price
$11.99
$0.00
Unit price
per
Gehwol Med Salve for Cracked Skin stimulates the blood flow while cooling and refreshing tired feet. The ointment treats heavily callused, dry, cracked, and rough skin and protects against inflammation and symptoms linked with cracked skin. 
Gehwol Med Salve for Cracked Skin is based on a well-tried selection of skin-friendly oils. It contains an effective combination of natural essential oils, the skin-caring vitamin Panthenol and the anti-inflammatory chamomile component Bisabolene.
Results:
By regular use your skin will regain its natural elasticity and resistibility and will be protected. Cracked skin, reddening and unpleasant side effects produced by that will be prevented in particular. 
Brand Story
GEHWOL is internationally recognized as a high quality line of foot care products since its creation in Luebbecke, Germany in 1868 by the pharmacist Eduard Gerlach.
Dermatologically tested.
Also suitable for diabetics. 
Ingredients: Petrolatum, Lanolin,Aqua (Water), Postassium Castorate, Panthenol, Zinc Oxide, Propylene Glycol, Glycerin, Eucalyptus Globulus (Eucalyptus) Oil, Parfum (Fragrance), Bisabolol, Menthol, Camphor, Lavandula Hybrida (Lanvandin) Oil, Rosmarinus, Rosemarinus Officinalis (Rosemary) Oil, Cymbopogon Nardus (CItronella) Oil, Thymus Vulgaris (Thyme) Oil, Citral, Citonellol, Coumarin, Geraniol, Linonene, Linalool, Alpha-Isomethy Ionone
---