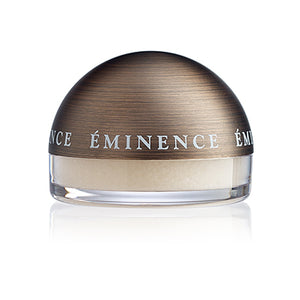 Eminence Organics
Lip Comfort Plumping Masque
Regular price
$24.00
$0.00
Unit price
per
 

AWARD WINNING

 
 

SOY FREE

 
 

NUT FREE

 
 

GLUTEN FREE
This antioxidant, vitamin rich and age-defying mask deeply hydrates and replenishes, stimulates collagen production and plumps lips. This is also available for at-home care as part of our Lip Trio Kit.
Find an Eminence partner spa to experience this product as part of a professional lip treatment.  
Professional Size: 0.27 oz / 8 ml
Winner of Best Lip Treatment, LNE & Spa's Best Product Awards, 2017
How to Use
Following the lip exfoliation (STEP 1), apply a layer of the mask to the lip surface and outline. Leave on for 5 minutes. Remove with a damp sponge, then blot with a tissue or a clean towel. Follow with the Citrus Lip Balm for best results. Note: as an add-on treatment, apply after the face mask has been applied.
Key Ingredients
Shea Butter: moisturizer; moisturizes, revitalizes and repairs
Avocado Oil: antioxidant, moisturizer; rich in proteins, amino acids and Vitamins A, D and E
Peppermint Oil: antiseptic, anti-inflammatory; restores skin, calms inflammation • Green Tea: antioxidant, polyphenol; combats free radicals, high in Vitamin C
Vitamin E: heals the skin • Sunflower Seed Oil: moisturizer, regenerator; supplies the skin with Vitamins A, D and E
Aloe Vera: moisturizer; soothes and calms irritated skin, reduces visible signs of aging
Hawthorn Berry Extract: antioxidant, high in bioflavonoids and Vitamin C
Botanical Peptides (derived from Hibiscus): Diminishes the look of fine lines; lips appear plumped
Pomegranate Extract: polyphenol-rich with high levels of antioxidants
Papaya: exfoliant, rejuvenator; dissolves dead skin cells, contains phytonutrients that renew the skin
Paprika: stimulates and plumps the skin; increases circulation
We Believe in:        We say NO to:

 Organic                
 Parabens            

 Natural                 
 Phthalates

 Biodynamic®        
 Sodium Lauryl Sulfate

 Sustainable           
 Propylene Glycol

 Cruelty Free          
 Animal Testing

Our natural, organic and Biodynamic® ingredients may have slight variations from harvest to harvest.
 
Results
Fine vertical lines around lip area are diminished
Roughness is smoothed
Collagen production is increased
Eminence is constantly innovating our product formulations to deliver the best results. 
---