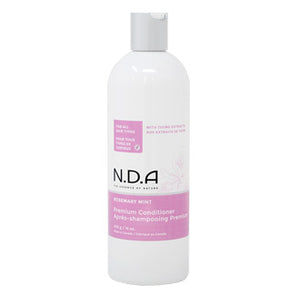 New Directions Aromatics
Rosemary Mint Conditioner - Organic
Regular price
$24.99
Sale price
$29.99
Unit price
per
Restore hair's vitality and replenish lost moisture with this silky conditioner. We have combined 100% pure organic essential oils of Rosemary and Spearmint with natural botanicals to replenish moisture, smooth the texture of your hair, and add lots of healthy-looking shine. This conditioner is free of parabens, petrochemicals, synthetic fragrances and colors and suitable for all hair types.
Benefits of Ingredients:
Organic Rosemary Essential Oil - It is one of the most preferred all-purpose herb in herbal hair products
Organic Spearmint Essential Oil - This is an uplifting oil, and a great refresher in the morning or at the end of a busy day.
Thyme Botanical Extract - An herb with great astringent properties.
Chrysanthemum Botanical Extract - This is a natural astringent to revitalize your scalp.
Guava Fruit Extract - This extract is rich in vitamins.
Net Weight: 400 g
---