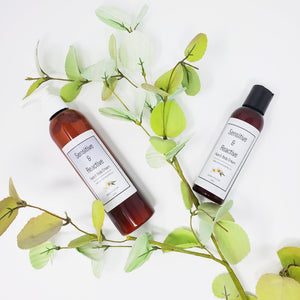 Himalayan Beauty Store
Sensitive & Reactive - Face & Body Cream
Regular price
$18.00
$0.00
Unit price
per
Do you have eczema, allergies, rashes or just hyper sensitive skin?? This formula has been a huge success with our clients for years!
About this Formula:
Essential oils like Chamomile, Lavender and Frankincense can help treat a variety of skin conditions which include cracked skin, burns, acne, eczema, inflammation, sensitive skin and rosacea—just to name a few. It's naturally anti-inflammatory and calming, making it a great choice for sensitive and allergic skin.
If you love essential oils, this is for you!
These Handmade lotions are made with 100% pure essential oils to not only help heal the skin but provide aromatherapy while massaging them into the skin! They are formulated to be used on extra dry skins that need a little bit more TLC. 
Whats in it?
water, cetearyl alcohol, ceteareth-20, glycerin, sunflower seed oil, shea butter, glyceryl monostearate, coconut oil, avocado oil, castor oil, sweet almond oil, cetyl alcohol, phenoxetol, vitamin E, sodium citrate, carbomer, 
Active Ingredients: benzoin, lavender, frankincense and german chamomile
Please read our Disclaimer for Handmade Products here
---